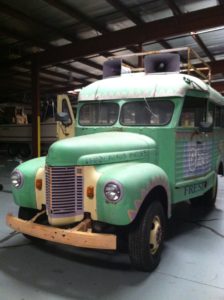 Our new old School Bus!
Lights, Camera, Traction! (LCT!) students have a new project: The Rat Bus. The LCT! Rat Bus began life as a 1938 DS30 International school bus. Today it's a source of hands-on experience for LCT! industrial arts educators and students with an interest in mechanics. Like many "rat rods" the Rat Bus is a tribute to the first generation of American hot rods. 
The Rat Bus body is mounted on a late 70s one-ton GM chassis. Our research with the Florida DMV reveals that it spent its first life transporting kids to school and was more recently used as a promotional vehicle for an Orlando-area restaurant. Our friends at Gordon Motorsports thought it would make a great hands-on project for our mechanically inclined students. Rat Bus features include:
454 cubic inch big block
Turbo 400 transmission
Dual rear wheels.
Three rows of seats (About as Rat as it gets)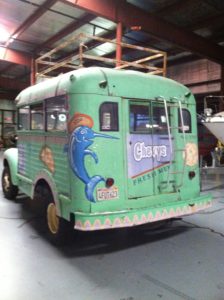 Our goal, with partner support, is to get Project Rat Bus road ready by March 24, 2019. On that day, as part of Daytona Turkey Run car show, we plan to give a select group of kids the once in a lifetime opportunity to ride in an 80-year-old school bus around the historic Daytona International Speedway.
You Can Help Us Get Rolling
Right now, LCT! is looking for hands-on help with the powertrain, brakes, cooling system etc. of the Rat Bus. If you can provide either corporate or individual support for Project Rat Bus, please contact us or call 800.210.2995.
Here's Where to See the Rat Bus
Progress on the Rat Bus, along with the good corporate and private citizens who share their time and resources with us, will be a regular feature on upcoming LCT! TV shows, website and social media. The Rat Bus will also make appearances at schools, car shows, community celebrations and many more public events. 
UPDATE: Our beloved bus is heading to California, as our needs require a bit more modern bus. The LCT RatBus will continue to be used by our first West Coast Mentor. We are now looking for a 1980s-90s shorty school bus; something reliable and dry. Our RatBus simply wasn't suitable to transport production equipment to schools and events.